QLM Insurance Available For All Services at Sidra Medicine
Dec 25, 2022
25 December 2022, Doha, Qatar – Sidra Medicine, a QF entity, has signed a new agreement with its insurance partner QLM Life & Medical Insurance Company.
The agreement will provide QLM's client base of citizens and residents in Qatar direct billing access to all of Sidra Medicine's private medical services and clinics. QLM has expanded access to Sidra Medicine for both its privilege and prestige clients.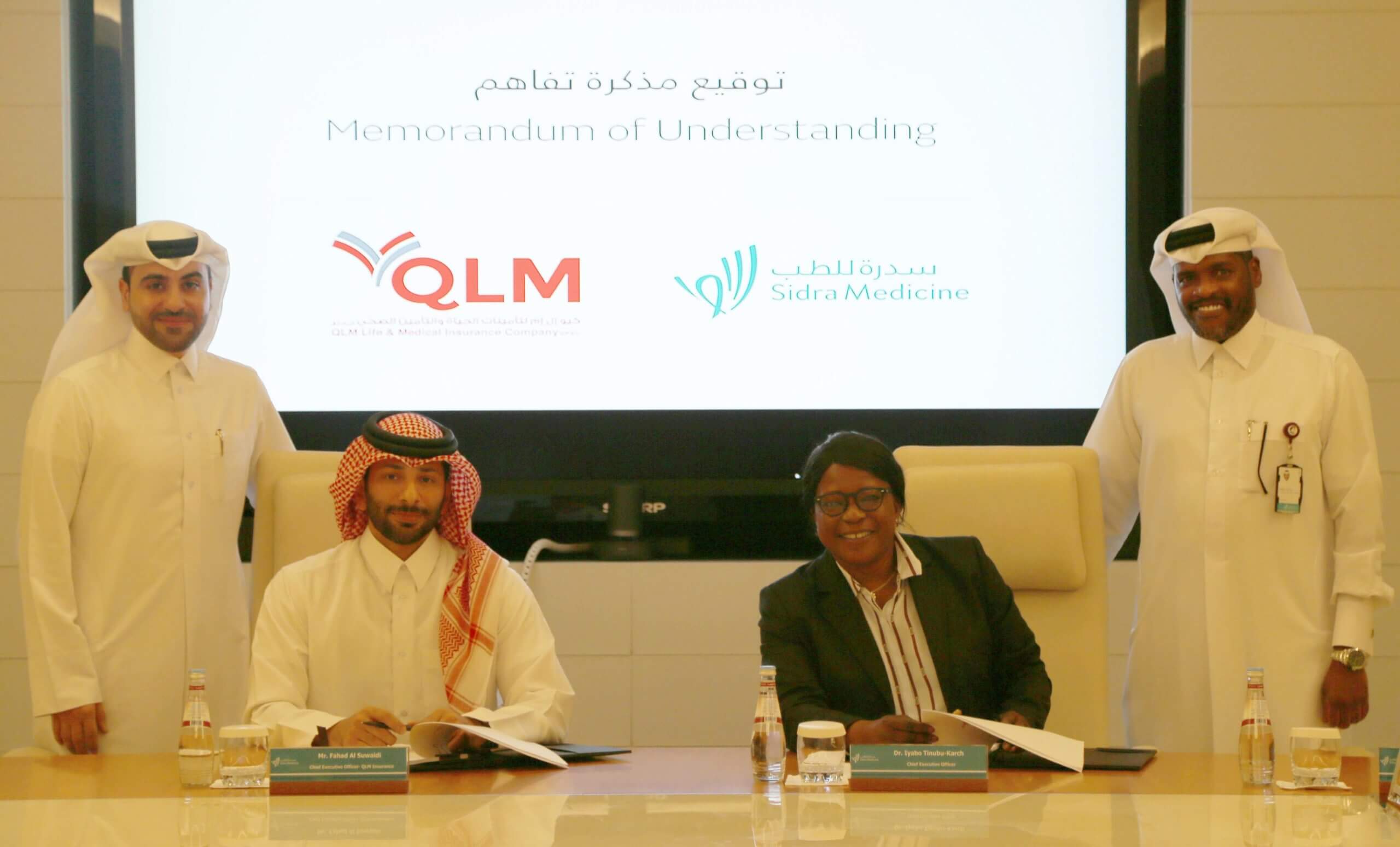 Dr. Iyabo Tinubu-Karch, the CEO of Sidra Medicine said: "I am pleased to onboard QLM as Sidra Medicine's latest insurance partner. By enabling meaningful health care coverage with such partners, we continue to be true to our vision of providing access to high-quality care to our patients as well as supporting positive health outcomes."
Mr. Fahad Mohamed Al Suwaidi, CEO of QLM Life & Medical Insurance Company, stated: "I am delighted to announce that QLM has achieved another milestone, by concluding the distinct agreement with Sidra Medicine, a renowned institution for healthcare and research, not only in Doha but across the region. This unique partnership will open the doors for QLM insured members seeking specialized care within their reach through the direct billing arrangement".
He further commented: "The agreement will provide QLM's client base access to all medical services provided by Sidra Medicine, not only the benefits of maternity and pediatric care. By this new contract, QLM will be the first insurance company in Qatar to provide full services to its clients at Sidra Medicine. Ahmad Zebeib, Deputy CEO of QLM Life & Medical Insurance Company commented: "The expansion of the QLM network to cater to its diversified segment of customers, is one of our top priorities. Our network is one of the largest medical networks for an insurance company in the MENA region and is comparable in terms of size and excellence of accessibility to major international insurance companies. We look forward to further expanding and strengthening our relationship with Sidra Medicine."
Sidra Medicine's range of private services, in addition to women's services, has been expanded to include pediatric services under its new evening clinics program, launched earlier this year. Under pediatric care, private evening clinics include ENT, endocrinology, general surgery, urology, neurology, child and adolescent mental health and more. For women's services, patients can access obstetrics, gynecology (including gynecology surgery), maternal fetal medicine and reproductive medicine.
For more details about Sidra Medicine, please visit www.sidra.org
About Sidra Medicine
Sidra Medicine is a private, not-for-profit and specialized healthcare facility in Qatar for women, children and young people. Established by Qatar Foundation for Education, Science and Community Development, Sidra Medicine embraces best practice medical education, innovative biomedical and clinical research and discovery, and exceptional patient and family focused care.
Sidra Medicine is a testament to Qatar's pioneering spirit and sustained commitment to its human and social development. It is one of the few hospitals in the world, where its clinical care services are closely integrated with its research and education priorities into a program of excellence that is built on a foundation of personalized and precision medicine.
The ultramodern facility specially designed to promote healing, provides comprehensive specialist services such as treating children with cardiovascular issues, diabetes, gastroenterology and epilepsy related health conditions. We also offer pediatric surgical specialties in neurosurgery; plastics, craniofacial and hand surgery; orthopedic oncology; urology and otolaryngology. Our clinical and translational research teams closely collaborate to treat children born with complex health conditions or rare diseases.
Our women's services include maternity, gynecology care and reproductive medicine (IVF). We also offer aesthetic surgery and congenital heart disease treatment for adults
To access Sidra Medicine services, and learn more about our contribution to global healthcare, education and research, please visit www.sidra.org or call +974 4003 3333.
For international patient services, please email: international.services@sidra.org. For media enquiries contact: pr@sidra.org .